Vincent C. Marconi, MD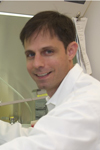 Contact Information
Email
vcmarco@emory.edu
Professor, Division of Infectious Diseases, Emory University School of Medicine
Research Interests:
Dr. Marconi joined the faculty in 2009 as the Associate Medical Director of the Grady Health System's Infectious Disease Program at the Ponce de Leon Center (Ponce Clinic) and then became the Director of the Infectious Disease Research Program at the Atlanta Veterans Affairs Medical Center in 2015. He is a Professor of Medicine in the Division of Infectious Diseases, Department of Medicine, Emory University School of Medicine and jointly a Professor of Global Health in the Rollins School of Public Health and the Emory Vaccine Center, in the Emory National Primate Research Center, Emory University. He is also a staff physician at the Ponce Clinic which serves a clinic population of over 6,000 patients living with HIV in Atlanta and the Atlanta Veterans Affairs Medical Center Infectious Disease Clinic which serves over 1900 patients living with HIV throughout the Southeast. In addition to his work at Emory, he maintains an ongoing collaboration that began in 2004 with colleagues in Durban, South Africa. He also began working with colleagues in Shanghai, China in 2015 and Addis Ababa, Ethiopia in 2016.
Dr. Marconi received his Bachelor of Science degree in Microbiology and Cell Science from the University of Florida and his MD degree from the Johns Hopkins University School of Medicine in Baltimore, MD. He completed his clinical and research training in Internal Medicine and Infectious Diseases at the Brigham and Women's Hospital and Massachusetts General Hospital, Harvard Medical School in Boston, MA. Dr. Marconi was then called to active duty service with the United States Air Force from 2005 to 2009 where he served as the Director of the HIV Medical Evaluation Unit and Research Program in San Antonio, TX.
The main focus of Dr. Marconi's research is to identify the biological, social and behavioral conditions which lead to disparities in HIV treatment response for domestic and international populations. Results from these studies inform the design of interventional trials with the goal to improve the quality of life for individuals living with HIV.
His domestic research activities have two primary components: (1) elucidating the role of inflammation in age-related diseases and HIV cure/eradication and (2) improving adherence and clinic retention for patients on ART. These studies have provided critical insights into the mechanisms driving virologic control and immunologic stability for Elite Controllers as well as HIV reservoir size and CD4 recovery for individuals receiving antiretroviral therapy (ART). Additional studies have identified key drivers of cardiovascular, metabolic, and renal disease. Ongoing clinical trials have been exploring ART simplification, Jak-STAT inhibition and other immune-based therapies. Research aimed at improving ART adherence and retention in care have included assessing the cost-effectiveness of ART in a free-access healthcare setting and examining the role of various behavioral interventions including a comprehensive, palliative care model, financial incentives, tablet-based technology, telehealth and cognitive-based meditation.
His international research has identified the prevalence of and risk factors for virologic failure and HIV drug resistance. He has examined clinical outcomes of second-line ART, as well as the impact of various adherence and pharmacy refill patterns, the contrast between urban and rural settings, ART drug levels and minority resistance variants on ART response. Ongoing clinical trials include genotype resistance testing and engagement with Traditional Healers. For the Emory Center for AIDS Research (CFAR), he oversees an extensive registry of HIV+ patients (~20,000 seen at Emory affiliated clinics) that has been instrumental in identifying eligible patients for research and conducting cohort analyses.